Snorkeling
The Golfo Dulce, one of the deepest gulfs in the world, hosts a great variety of marine life. But as a general rule, snorkeling or scuba diving is not the greatest in any of the rocky marine formations inside of the gulf (due unfortunately to erosion from mining in the early 1960's-1980's, logging, and the construction of the road that connects the OSA Peninsula with the Pan-American Highway). Luckily in the last years some of the reefs seem to be showing signs of regeneration; groups of tropical fish are typically seen around some of the rocky and coral formations, including parrot fish, different varieties of snapper, flag fish, rays, flying fish, and moray eels.
We can arrange a snorkeling trip for you; the equipment will be basic and will be provided by the tour operator. Snorkeling is best done around low tide. We think it is a great idea to combine snorkeling with another boating tour, like the Dolphin Watch or the Botanical Garden (Casa Orquideas). Please ask the receptionist about more options to combine this tour. There is no scuba diving in this area of the Osa, however we are happy to help you arrange a day trip to Caño Island, on the other side of the peninsula.
$45/person (min. 4 people; does not include cost of taxi ride)
PRICES ARE SUBJECT TO CHANGE WITHOUT NOTICE, PLEASE INQUIRE BY EMAIL OR AT LODGE TO VERIFY PRICES.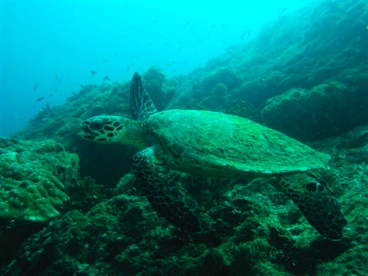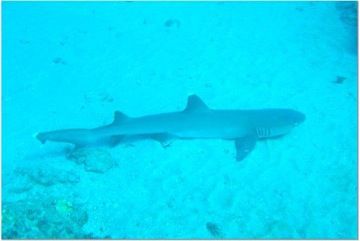 Scuba Diving & Snorkeling, Isla Del Caño
Along the Pacific coast, on the west side of the Osa Peninsula, is Drake's Bay, a tiny community that has become one of the most popular places in Costa Rica for amateur and professional scuba diving and snorkeling. Caño Island is a protected biological preserve, twelve miles west of Drake's, and offers some of the most exciting diving in this country. A wide variety of marine life can be discovered beneath the island waters, including schools of rays and white tip reef sharks, as well as large schools of fish swimming around and overhead. Although not as common, the elusive whale shark and the shy hammerhead are often spotted in the area. Water visibility is good and can range from 45-90 feet. Temperature hovers in the upper 70's to low 80's throughout the year and provides for an exquisite diving experience. Whether you are a beginner, intermediate, advanced diver, or just snorkeling, the variety of rich and abundant marine life will amaze you.
There are a number of ways to get to Drake's Bay, the easiest is by car (about 3 hours from Bosque Del Cabo, max. 6 people, approximately $200 for the taxi ride). You can also go by plane (you can't fly back after scuba dives, though) or by boat from Puerto Jimenez. Prices and time of trip vary, please speak to the receptionist for further details/pricing. Certification card is needed for scuba; we need several days notice to arrange this tour.